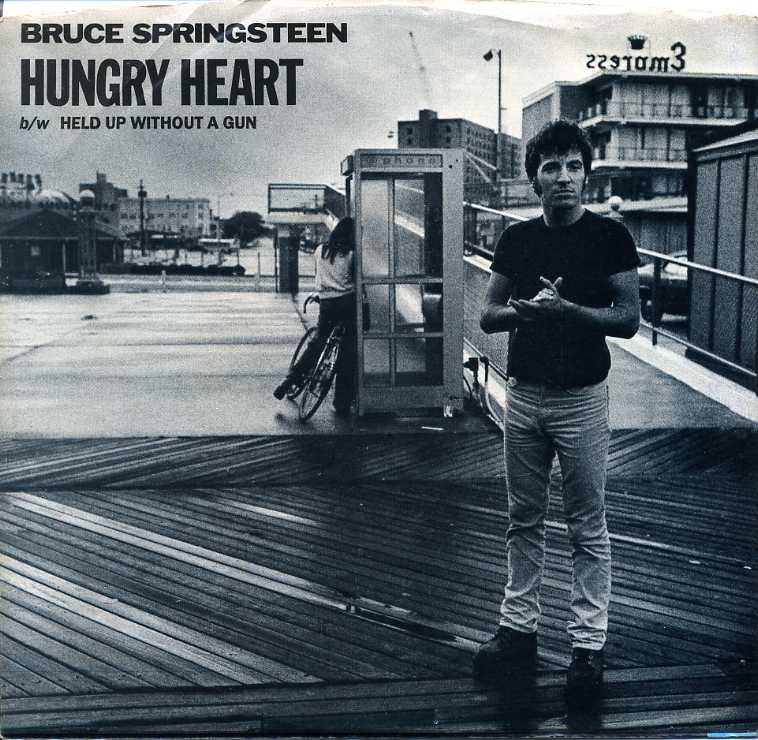 Last week, while Apryl and I were watching The Wedding Singer (the first time for me), there was a scene at a bar where Bruce Springsteen's "Hungry Heart" is heard on the soundtrack. While the scene was playing out, I admitted to Apryl that the Boss' first major hit was one of my favorite songs of all time. While I'm not a massive Boss fan (I never even got into the Born to Run album!), Springsteen did have a run of albums that I deem as essential: Darkness on the Edge of Town, The River, and Nebraska. And "Hungry Heart," originally written for The Ramones, has always been a favorite, a perfect rock/pop song that I could listen to over and over, without ever growing tired of it. How many others songs about dead beat dads rock this hard?
So, this all got me to thinking of other music confessions I have yet to make wide known:
Other favorite songs of all-time:
The Band – The Night They Drove Old Dixie Down
(I prefer The Last Waltz version but this cover is also pretty amazing!)
The Beach Boys – I Get Around
Shelby Bryant – The Walk
Sam Cooke – A Change Is Going To Come
Sam Cooke and the Stirrers – The Last Mile of the Way
Desmond Dekker – Israelites
Harry Nilsson – Everybody's Talkin'
Otis Redding – These Arms of Mine
Red House Painters – Michael
The Ronettes – Be My Baby
Santo and Johnny – Tear Drop
First concert:
It was either Hall and Oates or Billy Ocean. Both at Mud Island.
Favorite album:
Leonard Cohen – I'm Your Man
Favorite country album:
Kris Kristofferson – Me and Bobby McGee
Favorite guitar solo:
Duane Allman and Eric Clapton on Layla
Favorite singer:
Roy Orbison
Song I've listened to the most times in a row
Probably, Bob Dylan and the Band's This Wheel's On Fire from The Basement Tapes.
Favorite Bob Dylan song:
Easy. Lay Lady Lay.
Favorite The Beatles song:
Happiness Is a Warm Gun
Favorite The Rolling Stones song:
I Am Waiting
Favorite Led Zeppelin song:
When the Levee Breaks
Favorite The Who song:
Too many. But this is a good one.
Favorite U2 song:
Stay (Faraway, So Close!)
Favorite live albums:
The Allman Brothers – At Fillmore East
Sam Cooke – Live at the Harlem Square Club, 1963
Grateful Dead – Live at Cornell University (Unreleased)
Jimi Hendrix – Band of Gypsys
The Kinks – Everybody's In Show-Biz
Charles Mingus – Mingus at Antibes
Nirvana – MTV Unplugged in New York
Otis Redding – Live at the Whisky a Go Go, Vol. 2
Panda Bear – Live at ZDB, Lisbon, Portugal
Pink Floyd – Ummagumma
The Rolling Stones – Get Yer Ya-Ya's Out!
Talking Heads – The Name of This Band Is Talking Heads
Various Artists – Fillmore: The Last Days
Various Artists – Woodstock (soundtrack)
The Velvet Underground – 1969: The Velvet Underground Live
The Who – Live at Leeds (Original short version)
Still one of my favorite sentiments form a song:
"Don't dream it, be it." Rose Tint My World from The Rocky Horror Picture Show
– Have I mentioned that I've recently become a Deadhead. More on that later…