That's a quote from Emma, the busybody housekeeper in White Christmas. My mother taught my sisters and I from infancy about essential Christmas movies. When we got our first VCR in the late 1980s (my dad likes to make sure technological advancements are here to stay before he splurges on them), we got the chance to buy these movies and watch them over and over and over again. The three most important movies were Holiday Inn, White Christmas, and Miracle on 34th Street.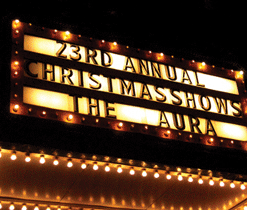 Somehow, Hayden has never seen any of these movies, and he excitedly told me a few weeks ago that an old theatre, the Music Box, would be playing 35mm prints of White Christmas and It's a Wonderful Life during their 23rd annual Christmas show. So on Friday, December 22, 2006, I got to do something that I thought I would never get to do: see White Christmas on the big screen.
When we arrived at the theatre, there was a line of moviegoers along the sidewalk, many of whom were speaking like veterans of the Music Box Christmas shows. Not until we got inside did we see what a ritual this event is for many Chicago families and groups of friends. About a quarter of the audience was wearing Santa hats, and even more were carrying jingle bells.
To begin to get everyone fully in the holiday spirit before the picture, a short called Suzy Snowflake was played. Grown women sighed, cheered, and sang exactly like they must have when they were little girls decades ago. Then four members of the Chicago Chamber Orchestra, Santa Claus himself, and the organist, who was wearing a Christmas tree costume, led the audience in Christmas carols. A slideshow reminded us of the words to standards like "Jingle Bell Rock," "Up on the Rooftop," and "Rudolph the Red-Nosed Reindeer." Everyone was singing their hearts out and jingling their bells at every opportunity. Hayden and I cheerfully joined in. Most of the lyrics quickly came back to me, and I could even picture the pages of the booklets my sisters and I sang from when carolling at a nursing home with other children from church. Hayden had to look at the screen a little more often. We both had to keep our eyes on the screen when Santa led everyone in a song he wrote about mud-slinging during Chicago elections to the tune of "Sleigh Ride." The sing-a-long ended with "Chicago Christmas" to the tune of "White Christmas."
At last, the lights were more fully dimmed, and I was keyed up and excited about Christmas in a way that I hadn't been in years and years. When the title White Christmas appeared on the screen, I nearly cried because I was so happy and wished that my mom and sisters could be there to share it.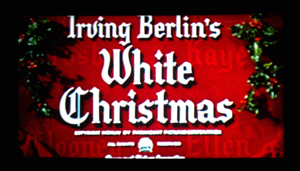 During the movie, I couldn't stop myself from singing the words to the songs in Hayden's ear and sometimes saying lines with or even before the characters. But I kept it quiet so that no one near us would take off his or her Santa hat and beat me with it. I wasn't the only one singing, though. I heard quite a few women singing "Sisters" unabashedly. People would laugh at almost anything, jingle their bells during songs, say "awwww" when something was touching, and whistle when Betty (Rosemary Clooney) or Judy (Vera Ellen) appeared all dolled up or we caught a glimpse of Bob's (Bing Crosby's) bare thigh. I was thrilled to be a part of it all and see people enjoying the movie as much as I was.
The only thing I didn't understand is why people were hissing. I've heard people do that during old movies at the Orpheum when a villain appeared. But there isn't really a villain in White Christmas. People hissed at Betty when she had the misunderstanding with Bob and continued even after she realized her mistake and wanted to make amends. I felt defensive of Betty and wanted to shush the hissing.
Finally, the movie came to an end, and Hayden and I drove back home looking at all the Christmas lights and listening to Christmas music on the radio. (You can't beat Willie Nelson singing "Frosty the Snowman.") When we got home, we forced Eva to take a picture with us so that we could put it an ornament we got to celebrate our first tree together.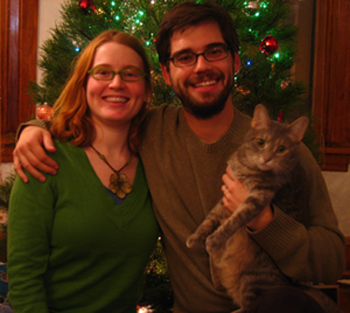 Then we wrapped presents and listened to Christmas music playing on one of the public access channels after hours. When we were exhausted and "Oh, Holy Night" came on, we decided it was time to drift off to sleep.