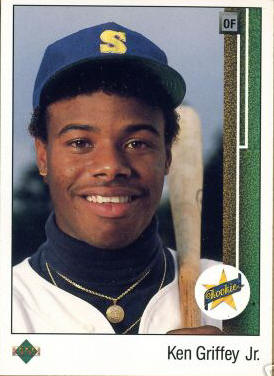 It's official. Ken Griffey Jr. is now a White Sox.
How very strange.
Above, the infamous #1 Upper Deck rookie card of Griffey, which I somehow manage to get in a pack of baseball cards in my stocking on Christmas of '89. At the time, the card's worth was priced at $35 – $40 (if I remember correctly). And, according to the article linked above, the card was once selling for up to $1000. I guess I should have sold mine around that time. I still remember that day when I opened that package and caught glance of glorious #1 staring right back at me. I felt like the luckiest kid on the block. This must have been how Charlie felt when he discovered the Golden Ticket!
Now, WikiAnswers claims one is able to pick up their very own Griffey rookie card for a mere $15 – $40. Oh well.
P.S. – For those scratching your heads about the post's tile, Kenny Williams is the General Manager for the Chicago White Sox.