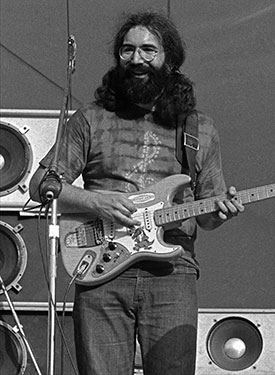 I find it funny that the Dead were always associated with tie-dye, when in actuality, the band has gone on record as hating the look. Still, their fans continue to don the style with pride. While the Dead rarely displayed the hippie stereotype, they did have some interesting looks throughout the years:
What's better, the Dead's rendition of St. Stephen or Garcia's outfit?
Check out Mr. Weir's short, shorts! Scary.
Speaking of shorts, this might be only time Garcia wore half length pants on stage. The results are frightening.
More from the fashion conscience Weir who sports here a purple polo top and cut off blue jeans. Classic.
And clearly, the scariest of them all. Clown fashion! Be afraid. Be very afraid…