It is hard to believe that we are almost done with the first month of 2011! And, I never even posted my 2010 end of the year list. For shame. Well, here we go:
Top 10 Concerts of 2010:
10. Rhythm Devils at House of Blues
9. Railroad Earth at House of Blues
8. Chicago Symphony Orchestra at Millennium Park
7. LCD Soundsystem at Pitchfork Music Festival
6. Panda Bear at Pitchfork Music Festival
5. Caribou at Millennium Park
4. John Prine at Ravinia (from Prairie Home Companion)
3. Pavement at Pitchfork Music Festvial
2. Furthur at UIC (both shows)
1. Bonnie Prince Billy and the Cairo Gang at Lincoln Hall (early show)
– Being a new Deadhead was the direct result of #10, #9, and #2 being on this list.
Top 10 Favorite Songs of 2010
10. The National – Bloodbuzz Ohio
9. Gil Scott-Heron – New York Is Killing Me
8. Woods – Suffering Season
7. Deerhunter – Helicopter
6. Phosphorescent – It's Hard To Be Humble (When You're From Alabama)
5. Beach House – Used to Be
4. MGMT – Someone's Missing
3. Avey Tare – 3 Umbrellas
2. Sufjan Stevens – I Walked
1. Atlas Sound – Untitled
– While I might have listened to a lot of older music (especially the Dead) last year, I still got around to checking out a few new stuff. Most of it didn't excite me that much, but the these tracks sure did.
Top 10 Favorite Songs I Discovered In 2010 (Not including the Dead)
10. String Cheese Incident – Land's End (1997)
9. Jorma Kaukonen – Song for the North Star (1974)
8. Van Dyke Parks – John Jones (1972)
7. Railroad Earth – Storms (2004)
6. Harry Nillsson – Jump Into the Fire (1971)
5. Béla Fleck – Somerset (1986)
4. The Staple Singers – I Had a Dream (1959)
3. Elizabeth Cotten – Shake Sugaree (1967)
2. Moondog – Do Your Thing (1978)
1. Crosby & Nash – Southbound Train (1972)
– Admittedly, I was late in the game on these amazing songs. I suppose better late than never. See a theme going on? Anyway, a few notes here: 10) Yes, I did include a String Cheese Incident song here. Feel free to make fun of me. The truth is that I tried to get into other jam bands but to little avail. SCI was one of the few that kept me interested, especially "Land's End". 9) Jorma Kaukonen was always my favorite Jefferson Airplane member. 8) How did I go so long without listening to Van Dyke Parks solo albums? 7) Another "jam band" that I got into was Railroad Earth. Best seen live but their albums hold up quite nicely, too. 6) I am new to Harry Nillsson even though "Everybody's Talkin'" is one of my favorite songs. I had only know "Jump Into the Fire" as that wonderful song in Goodfellas where Henry is driving around paranoid, looking up at the helicopters in the sky. 5) Have you listened to Béla Fleck's early albums? They are so lovely, especially "Somerset" which comes off the Inroads album. 4) I love the Staple Singers but had not dived into their early recordings until last year. Boy have I been missing out! 3) I have the Dead to thank for introducing me to Elizabeth Cotten. Easily, one of my favorite guitar players. So unique her style is called "Cotten pickin'" 2) I finally sought out more from Moondog, and I am so grateful that I did. "Do Your Thing" just might be the best song ever recorded. 1) I don't know what it is about this Crosby and Nash song I love so much but I probably played it more than any other song last year (includes Jerry Garcia on pedal steel).
Top 5 Movies Watched On Netflix Instant Watch (That I Hadn't Seen Before):
5. Phantasm (1979) – I can't believe I hadn't seen this! For years, I skipped it thinking that I had. Big mistake!
4. Bela Fleck: Throw Down Your Heart (2008) – If you are a fan of music, I think you will enjoy this musical adventure.
3. You're Gonna Miss Me (2005) – The sad tale of whatever happened to Roky Erickson. Very reminiscent of The Devil and Daniel Johnston. Both could make for a fascinating yet depressing double feature.

2. The Cove (2009) – Another depressing documentary but extremely well done and meaningful.
1. The King of Kong: A Fistful of Quarters (2007) – The biggest surprise of the bunch. I was expected a lighthearted documentary about video game obsession. Instead, I was treated to a morality play between good and evil. Or something like that. Highly recommended.
– We just got Netflix for our Wii a few months ago so expect a few more recommendations in 2011.
Top 5 Places I Visited For Work
5. New Orleans, LA – I didn't get to spend much time here. Just enough to enjoy an oyster poboy. However, not enough time to get a beignet. How sad.
4. NYC – I worked with Yankees' manager Joe Girardi at the House of Blues in Times Square. More importantly, I got to hang out with my friend, Brad.
3. State College, PA – I worked here twice last year. Once, we drove there. I never imagined that Pennsylvania was so pretty. The second time we flew, and I had the best crab cakes I have ever had in my life. And I got to meet Joe Peterno.
2. San Diega, CA – It was hard having to leave paradise to return to the harsh, Chicago winter.

1. Dyserville, Iowa – Actually, it was a detour stop on the way home from a shoot with The Weather Channel. Details aside, I got to run the bases at the Field of Dreams baseball field.
_
_
Random food photos from 2010:
Tasty french toast from Dixie Quicks in Omaha, NE.
The Super Grouper at Frenchy's in Tampa, FL
The Peachy Paterno on campus at Penn State.
A half-eaten Rickwood Dog at the Rickwood Classic in Birmingham, AL.
My favorite pie! Baked and decorated by Apryl.
The cinnamon buns at Ann Sather.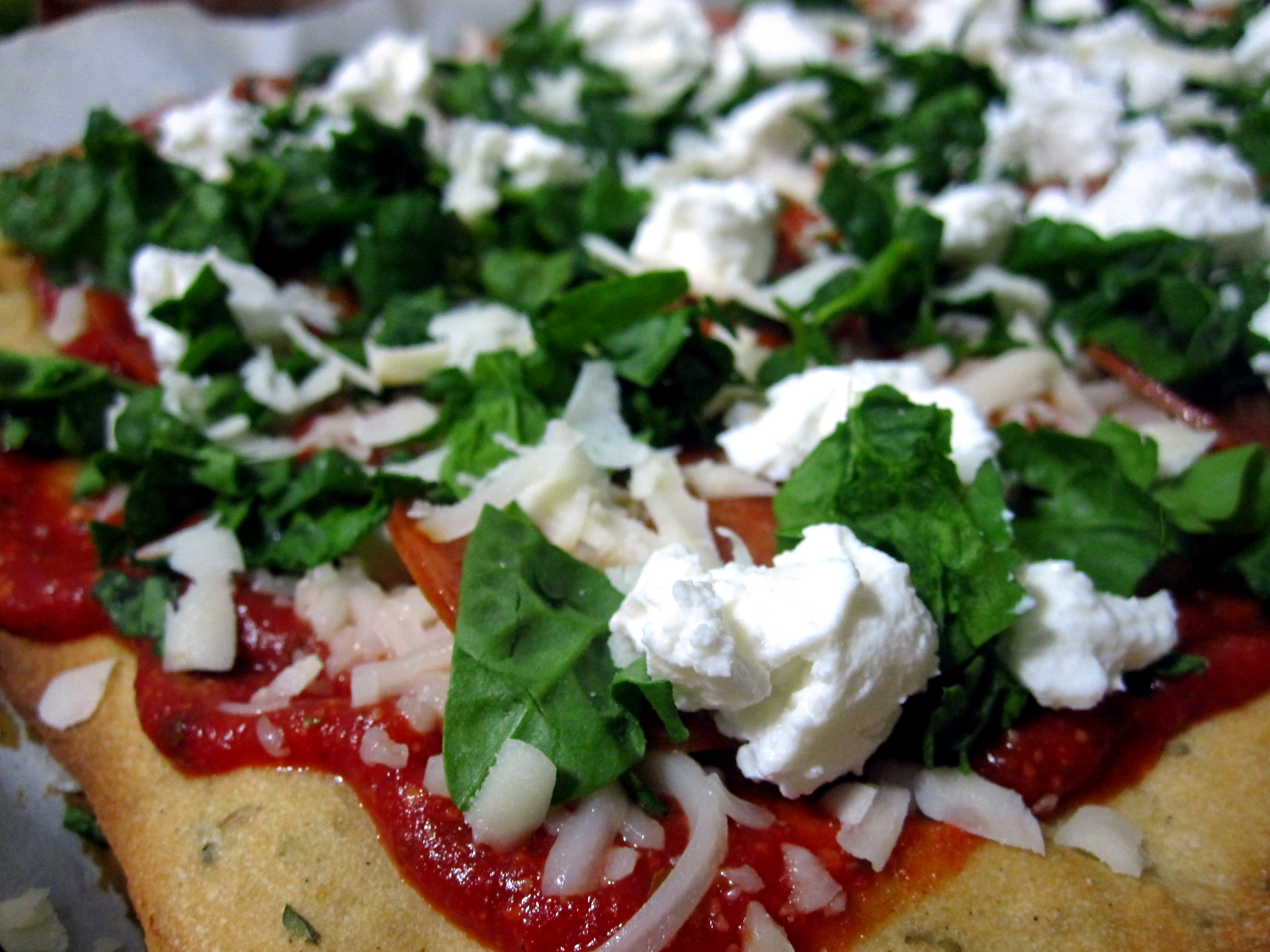 Homemade pizza with spinach and goat cheese. Yummy!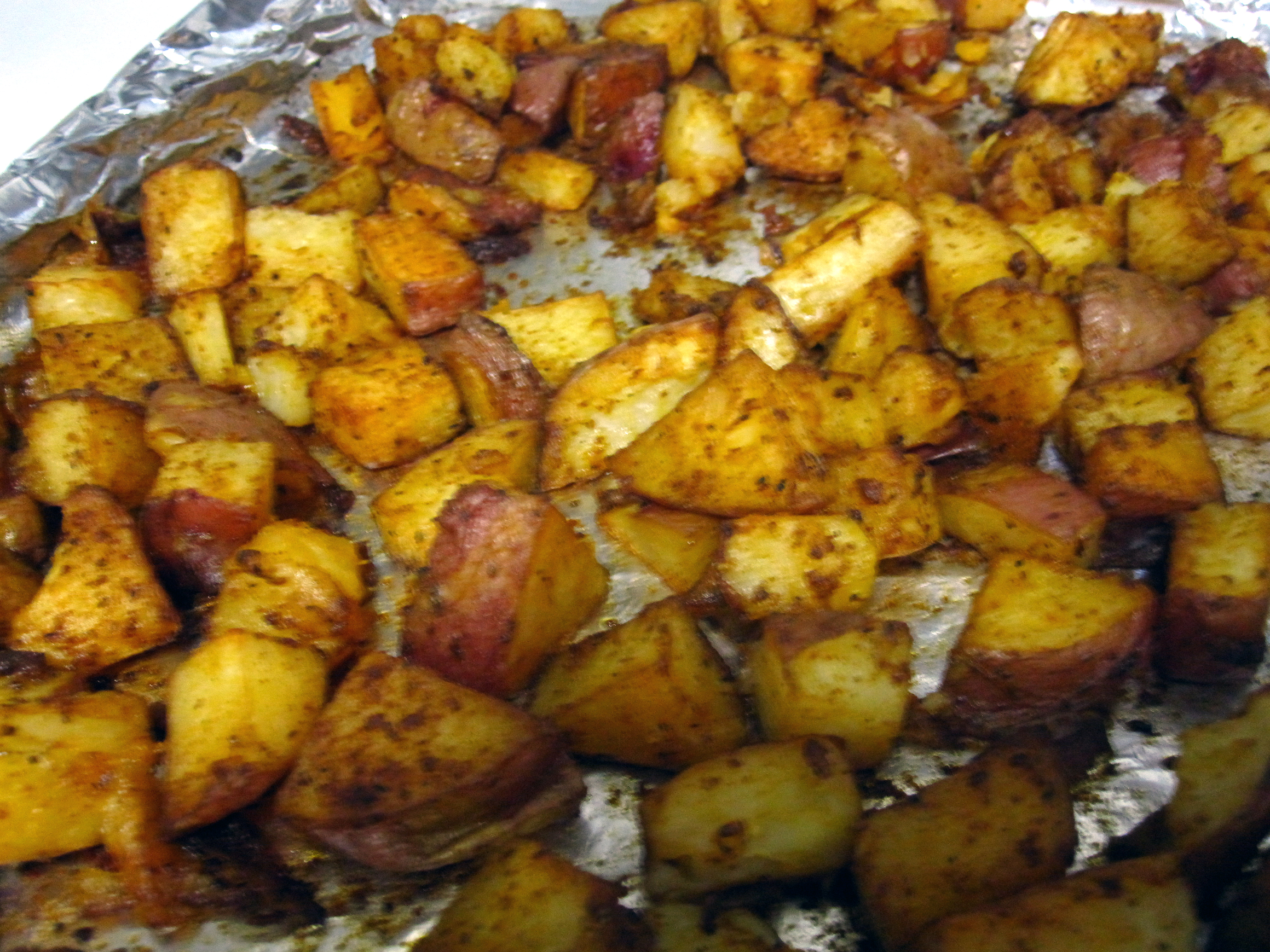 Apryl makes amazing home fries!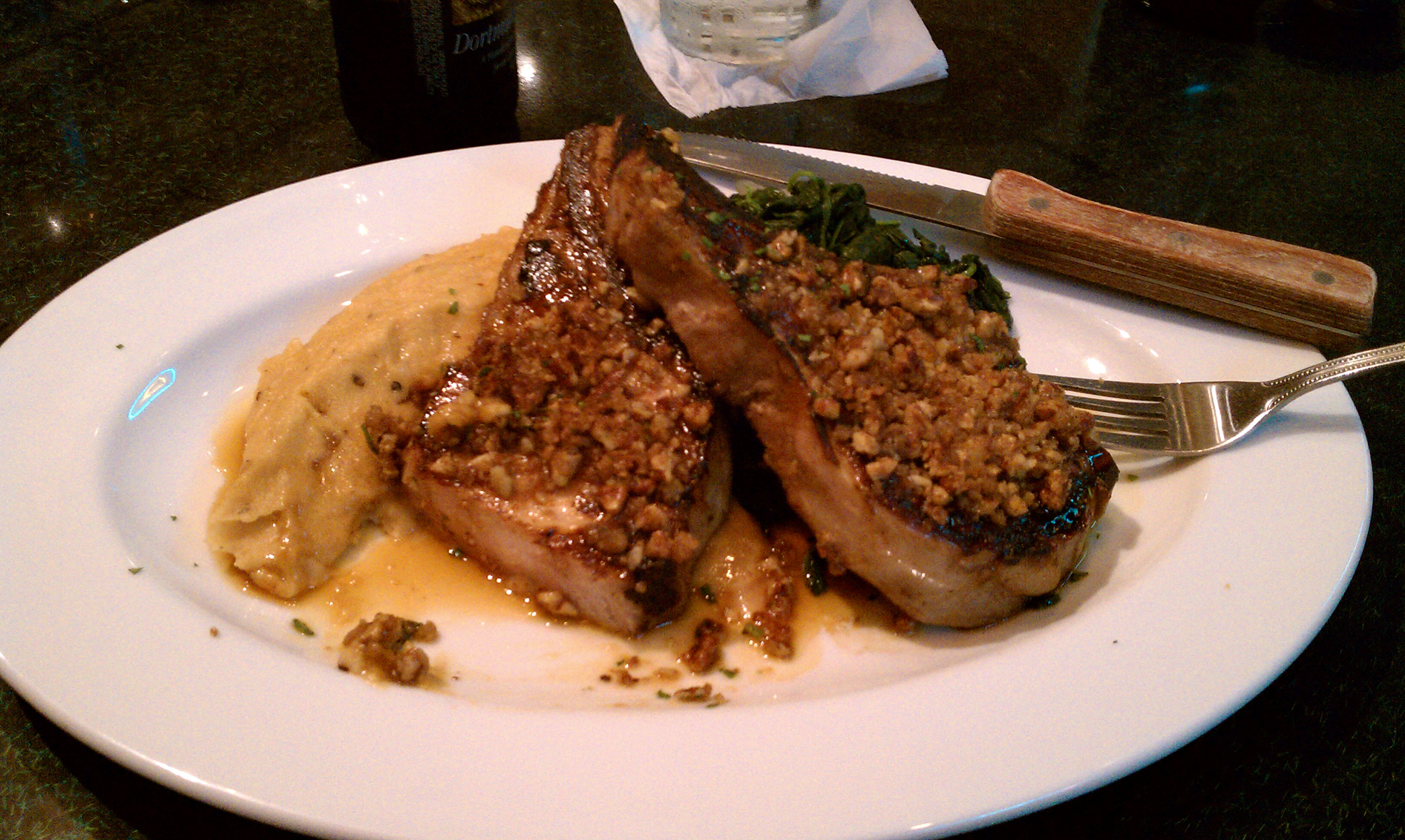 Unbelievable tasting pork chops! The waiter sold me on this when she told me that if she was only allowed on food for the rest of her life, this would be it. Too bad this is off the menu for me at the moment while I'm still practicing vegetarianism.
One of my favorite meals of 2010 was this crab cake in State College, PA.
_
_
Top 5 Favorite Personal Photos of 2010 (in no order)
Goodbye 2010. Hello 2011!