Yesterday, Apryl and I took advantage of Free Week over at the Art Institute as the museum was celebrating the opening of its Modern Wing. The new addition of 264,000 square feet makes it the second largest art museum in the country!
Inside the new space, one can find contemporary art from 1960, early 20th century European art, new photography, architecture and design, and video media. The best part, which we didn't get to try out, was the Nichols Bridgeway which is a walkway from Millennium Park to the third floor of the Modern Wing. No wait, the best part was that it was free! Check out photos from our trip:
The third floor entrance from the Nichols Bridgeway.
Inside the Modern Wing.
Jeff Wall's The Flooded Grave. Silver dye-bleach transparency in an aluminum light box.
Apryl walking on the second floor of the Modern Wing.
In contemporary art from 1945-1960. Of course, this is Jackson Pollock. Greyed Rainbow is the title.
Apryl inside the contemporary art after 1960 section. Check out the Elvis Warhol!
David Hockney's American Collectors.
More Warhol.
Roy Lichtenstein's Brushstroke with Spatter.
Hey, I wonder why I like this one so much???
Two Candles from Gerhard Richter. Seem familiar?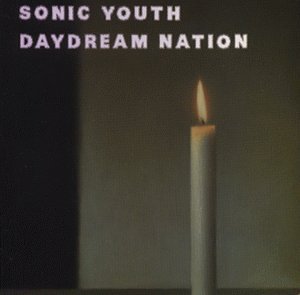 Perhaps, this is why.
Inside the early 20th century European section. Above, Matisse's Bathers by a River.
The Old Guitarist from Pablo Picasso.
They even had this maquette from Pablo Picasso of the 50 foot tall, 162 tons sculpture which was commissioned by the original Mayor Daley. Today, it can be seen at Daley Plaza in downtown Chicago.
Full photostream found here.